We understand Kiwis have many questions about 5G and what it means for them. To address these questions, we've compiled the latest research as an unbiased source of information. Read the info below or download the PDF:
A few facts about 5G »
5G or "Fifth Generation" is simply the next development of mobile communication and as the next upgrade will provide new opportunities to do things faster and better, particularly while on the move.
The first successful handheld mobile phone call was made on the 3rd April 1973 by Martin Cooper from Motorola to Dr. Joel S. Engel of Bell Labs, his rival in the race to get the first cell network developed. The prototype handheld phone used by Dr. Cooper weighed 1.1 kilograms and measured 23 by 13 by 4.5 centimetres, and offered a talk time of just 30 minutes and took 10 hours to re-charge.
The first commercial mobile networks were launched in Japan in 1979. New Zealand saw its first network launch in 1987 by Telecom NZ. These networks are now what we might call the 1G networks – basically all you could do was make a phone call with a large handheld device.
In the early 90's the second wave of networks were launched (2G) with the big new service being text messaging. Late 90's saw 3G developed which had the first real usable connection to the internet on your device, followed in the late 2000's by 4G with truly mobile broadband.
What's the difference from 4G?
With each generation of mobile networks up to now, there has been a significant step forward in the capabilities of the technology.  You can argue that's not the case for 5G, and that it is simply an evolutionary step. 4G brought with it the ability to surf the internet seamlessly on our smart devices including video streaming in an all IP network.
5G takes the capabilities of previous networks and during the design of the new standards 
Up to 100 times faster – 5G will have faster upload and download speeds compared to 4G, and be of most use to users of large data sets and heavy communication needs. 

Lower latency by a factor of five  – this will benefit areas such as healthcare, autonomous vehicles and other smart transportation options.  It will also have benefits for entertainment (e.g. streaming and gaming) while on the move. Latency is the time it takes for a command to travel from the sener to the receiver and the receiver to respond.

Mass connectivity – More devices will be able to connect to each other – the 'Internet of Things' – ranging from connected devices in houses and factories, through to tracking devices on things such as shipping containers.  It also is designed to provide 10x better battery life in remote sensors.

Larger network capacity – a greater capacity for volume of traffic so e.g. more people can livestream the same event without buffering issues.  There will also be the option (when developed) to create what are called network slices – think of something like dedicated lanes on a motorway – that could be used for highly critical services such as ambulances and police.
What are some of the use cases?
5G is a radio based technology that works best where you need wireless connectivity to devices.  It offers benefits over current wireless technologies, and is able to in some instances, deliver fibre comparable speeds.  
There are a number of new use cases where the technology will be incredibly useful.
Here are a few examples:
Factory Automation – in this instance private 5G networks or a slice of the local operators network could be used for controlling highly automated manufacturing in real time 
Remote Robotic Surgery – where fibre services are unavailable, 5G with its low latency would be well suited for remote surgery.
Smart Cities & Rural – where there are a large number of devices to be connected that measure and control aspects of cities and farms
Autonomous Vehicles – with the requirement for large amounts of data to be shared with vehicles quickly and efficiently, the speed and low latency of a 5G network is a necessity.
What's so special about spectrum?
Spectrum in this case simply relates to the radio frequencies allocated to mobile operators and other sectors for communication over the airwaves.  Each network requires its own block of spectrum within a wider band that devices are designed to use.
Prior to 5G, each device can only use one spectrum band at a time – for example in rural NZ, most networks use the 700MHz block of spectrum as it gives very good coverage for users from each cell tower.  But in urban NZ the same device can connect at 1800Mhz for example, but not 700Mhz and 1800Mhz at the same time. 
5G however is different in that it can use a range of spectrum much broader than in previous evolutions.  It is designed to work on several types of spectrum, ranging from low bands such as the 700MHz already in place which gives good geographic coverage and penetrates indoors well.  The mid-band which in NZ will be around 3.5GHz ( 3,500 MHz) which gives a good blend of performance and coverage and is the preferred bnd for NZ network operators to launch with. And then in the Millimeter wave (high-band) which is capable of very fast speeds but is easily disrupted by environmental factors and doesn't penetrate indoors.
The NZ Government is currently looking to issue short term licenses to use the 3.5Ghz spectrum so that mobile network operators NZ can roll out their 5G upgrades to their network.  However, the current pandemic has led to a delay in the process of auctioning and then allocating these licenses.
Will 5G be harmful to health?
Most who believe that mobile technology is harmful, point to the amount of radiation that is generated by the network. This radiation is caused by EMF ( or the electromagnetic fields) that is broadcast from the towers.  There are numerous sources of natural EMF, including the waves that are sent out by the sun which we see as visible light.
Many researchers have explored possible connections between EMF and cancer and as is often the case when there are many separate studies, a small number of isolated lab studies have reported an association between exposure and cancer, such as mobile phone use and brain tumour risk. These studies are in the minority and significantly more high-quality studies have found no associations, including studies funded by cancer research organisations. Scientists have looked at all of the research and weighed up each study, looking at factors like the study design, level of association or certainty, and whether results have been repeated by other studies. The clear conclusion reached internationally, supported by health authorities in New Zealand, is that exposure to this type of radiation at levels experienced in New Zealand is not hazardous.
Why is 5G being seen as more dangerous than 4G?  Proponents of the danger point to the use of higher frequencies and more cell sites as being the cause of increased risk.  However, even with the use of the millimeter band, 5G services will be comfortably in what's called the non-ionising range of EMF spectrum and non-ionising radiation has not been found to have any physical impact other than mild heating at extreme exposure levels.
What's happening in NZ with Deployment?
In New Zealand we have effectively four mobile networks.  Vodafone, Spark and 2degrees operate their own networks, and The Rural Connectivity Group (The RCG) which is rolling out a shared 4G network in parts of rural NZ.
In August 2017 the Rural Connectivity Group was appointed by the government to be the infrastructure provider under the Rural Broadband Initiative 2 and the Mobile Black Spot fund. The Rural Connectivity Group is an independent entity established to build the infrastructure shared by New Zealand's three mobile network operators and to operate and maintain the new open access network. 
This collaboration will see New Zealand as the first country in the world where all three mobile network operators will share radio access network equipment and one set of antennae on each facility built by The RCG. The retail services provided by the equipment will be the responsibility of the three mobile network operators. The RCG is jointly and equally owned by Vodafone, 2degrees and Spark.
Internationally, there are many network builds underway with 5G equipment and Ericsson forecasts that by 2023 of the 9 billion mobile subscriptions globally, 1 billion will be 5G.
In New Zealand, Vodafone and Spark have already announced and launched trial services in various parts of New Zealand using spectrum they already have available to them.  More up to date details are available on their websites.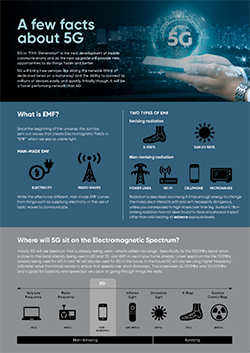 Download the 5G Info PDF
5G or "Fifth Generation" is the next development of mobile
communications and as the next upgrade will provide new
opportunities to do things faster and better.
Download: A few facts about 5G »
Ph: +64 4 815 8178
E:  office@tuanz.org.nz

Postal Address:
TUANZ
PO Box 65503
Mairangi Bay
Northshore 0754