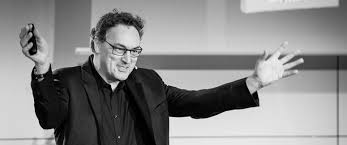 Every second week we host conversations with people who are leaders in the digital technology and communications space. Some weeks we might be talking to them about new tech opportunities, or other weeks about developing as a leader in this fast changing environment.
This week we are looking into the future of tech with Gerd Leonhard. Gerd is a Futurist and a Humanist, a leading global Keynote Speaker (on stage as well as virtually), the Author of 5 books including 'Technology vs. Humanity' and a Film-Maker. He is a Fellow of the Royal Society for the Arts in London, and the CEO of The Futures Agency in Zürich / Switzerland. "Embrace technology but don't become it" is his credo.
And as a special incentive for this event – we have 50 of Gerd's latest book "Technology vs Humanity" to give away as an ebook after the event for those who register and join the webinar.
This is a free event for members of TUANZ and our future leader programmes.