FLINT COFFEE WITH C/SUITE
In 2016, TUANZ launched the FLINT (Future Leaders in Tech) programme to help meet the needs of our future leaders.  Our shared vision is to facilitate the development of knowledge and exposure of members to senior people and ideas within the industry so that in years to come FLINT members will be in executive roles with communication technology responsibility.
One of the key initiatives that we think will really be of value to you – our future leaders – is our  "Coffee with C/Suite".   
---
What happens at one?
A small group of 8-10 FLINT members will have the opportunity to  meet for an hour with a senior executive from one of our key TUANZ organisations.  This will be a frank conversation usually around the Exec's career along with words of wisdom they can share with these future leaders at the beginning of their career.  There isn't any planned script for any of these sessions, and for the participants to be encouraged to ask questions of the Exec during the meeting.  Our hope that these are reasonably informal gatherings but that you gain some sense of what it's like at the Exec level of a major organisation, and the sorts of career decisions that get made along the way.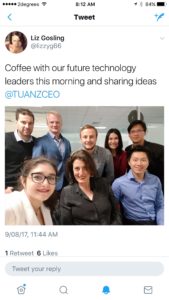 ---
How do I get involved?
Obviously each session is limited to a small number of participants so we have to have some 'rules' around things like the number of times you can attend a session in each 12 months – basically one although we can put you on a waiting list for any particular session.  You also have to be on our FLINT member list so if you haven't joined yet then head over to this page where there is a form to complete.  You will find below a schedule for 2018 as it develops and each Exec has a link to their LINKEDIN profile for you to see more about their background.  If you are interested in attending one of these sessions to meet the Executive listed then complete the form at the bottom of this page and we'll get back to you as soon as we can.  
---
2018 Schedule – as at 18th July
AUCKLAND
Friday 3rd August, 10:30am, Andrew Todd, General Manager, Visionstream NZ
Tuesday 2nd October, 10am, Simon Kennedy, CIO, Air New Zealand
To be scheduled, Jolie Hodson, CEO, Spark Digital
HAMILTON
Wednesday 26th September, 10am, William Hamilton, CEO, Ultrafast Fibre
Tuesday 6th November, 3pm, Paul Littlefair, CIO, Livestock Improvement Corporation
To be scheduled, Claudia Hill, CEO and Co-Owner, Room9 Ltd
WELLINGTON
Tuesday 28th August, 2pm, Barbara McKerrow, COO, Wellington Council
---
Apply for a session
.
Updated 18th July 2018